Listicles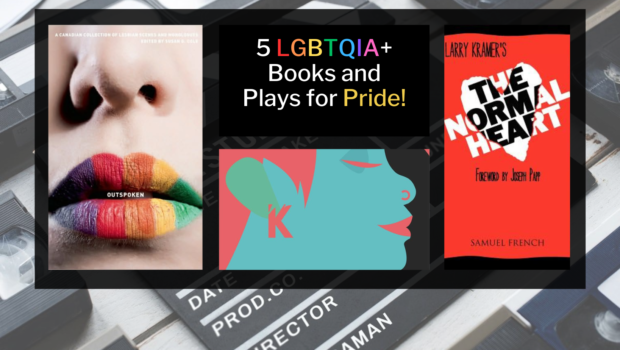 Published on June 5th, 2023 | by Biz Books
5 LGBTQIA+ Books and Plays for Pride!
Celebrate Pride month with 5 books & plays featuring LGBTQIA+ stories!

Touching on gender, sexuality, family, pop culture, and history, these pieces range from the hilarious to the poignant, the sexy to the sincere, the truthful to the tongue-in-cheek. Collected by writer and journalist Susan G. Cole from poetry, prose, theatre, and even a graphic novel, the scenes and monologues found in this collection reflect personal, political, and cultural complexities in the Canadian lesbian community.
The Normal Heart has long been a favourite of acting teachers for Male Monologues and Male/Male Scenes.
The Normal Heart is a full-length drama by Larry Kramer. Produced to acclaim in New York, London, and Los Angeles, this largely autobiographical play chronicles one man's journey to bring attention to the slow response to the AIDS epidemic as he struggles to create support for himself – and his illness. The Normal Heart is a central work to the history of the LGBTQ movement and its theater.
True Love Lies is a full-length black comedy by Brad Fraser. A middle-aged couple have a loving relationship, successful careers and a happy, normal life with their two teenage children. Life couldn't be more perfect… until an old flame comes back to town. Hidden relationships are revealed and the safe veneer of home begins to splinter. True Love Lies is a ruthless comedy that will leave you laughing… and wondering about your own family secrets.
The Kilroys List, Volume One contains 97 monologues for both male and female actors, all from a list of plays based on The Kilroys' national survey of hundreds of professional artistic directors, literary managers, professors, producers, directors, and dramaturgs. Members of The Kilroys act as facilitators throughout the process but do not recommend plays for "The List", which serves as a resource for producers and theatres committed to gender parity.
This incredibly hysterical, cutting-edge collection of monologues will give actors auditioning for LGBTQ roles the extra bang they need to land the perfect comedic role. LGBTQ Comedic Monologues That Are Actually Funny features works by LGBTQ writers and comics (and their allies) who have written and/or performed for Comedy Central, Backstage magazine, NBC, the Huffington Post, the Onion, Second City, E!, and many more. This collection is the go-to source for the comedic monologue needs of actors seeking LGBTQ material, as well as a paean to LGBTQ characters and artists.