Events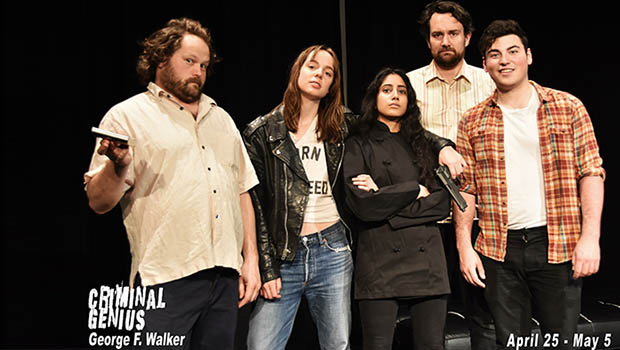 Published on April 23rd, 2018 | by Biz Books
Criminal Genius Opens at Go Studios on April 25th
Victor Ayala, a Vancouver-based actor and director, is honoring home-grown Canadian theatre by producing George F. Walker's Criminal Genius with an all-Canadian cast.
The production, a fast-paced slacker comedy, focuses on five wayward characters who experience the negative consequences of self-victimization through comedic, unfortunate, and tragic circumstances. Ayala is passionate about contributing to local content that represents Canada and its vast history of stories and relationships through George F. Walker's writing. "Criminal Genius" sheds light on individuals who are consistently written out of narratives, such as those that are either low-income or those who don't have the same educational or career opportunities. The play provides a closer look into one of the many issues that inhibit people from reaching their full potential.
The production includes successful actors from Vancouver and the lower mainland. Emily Haine, from the Golden Globe-nominated Fargo, will be playing toughened criminal Shirley Katakis. Brendan Taylor, known for his work on the long-running series Supernatural is Rolly Moore, a low-level criminal, and Roman Anthony, a recent graduate of Go Studios' full-time acting program, will play his son, Stevie Moore. Film and stage actress Rami Kahlon will play Amanda Castle, the daughter of the criminal genius, Mike Castle, and comedic actor, Kalvin Olafson, has taken on the role of Phillie Philips, the consistently inebriated manager of the motel where the play takes place. Theatre artists Hollie Emerick and Hanna Hopper are acting as Assistant Director and Stage Manager, respectively.
Criminal Genius is being presented as part of the 2018 season at the Blake Snyder Theatre (112 East 3rd avenue). The show runs from April 25th-May 5th.
Tickets ($15) can be bought at BrownPaperTickets.com
---
---