Interviews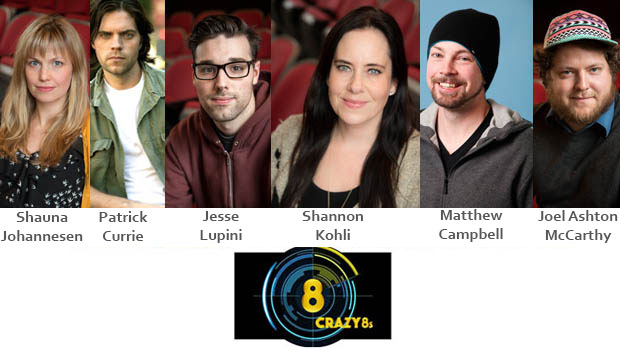 Published on February 23rd, 2016 | by Biz Books
The Biz Interview: Crazy8s 2016 Filmmakers
BizBooks.net is pleased to support Crazy8s 2016! The Gala screening and party is only a few days away on Saturday, Feb 27th.
It's no easy task to make a short film in 8 days, but somehow six Vancouver filmmakers have managed to do it. We interviewed Crazy8s directors Matthew Campbell (Grocery Store Action Movie), Patrick Currie (Meet Cute), Shauna Johannesen (Trying), Shannon Kohli (A Family of Ghosts), Jesse Lupini (Iteration 1), and Joel Ashton McCarthy (I Love You So Much It's Killing Them) to see what they learned from the process and get the scoop on their films ahead of their big day.
—–
Can you start by telling us a little bit about you and your film?
Matthew Campbell: I'm an indie filmmaker living in North Vancouver, BC. I work in the film industry as a greensman, and spend my spare time shooting passion projects. My film, Grocery Store Action Movie, is about a man who gets to the checkout line, but realizes he forgot the one item needed to impress their dinner guests! With time running out, he must dash across the store overcoming obstacles trying to slow him down.
Patrick Currie: I'm an actor who found my way to directing by my frustration with stories that don't reflect the current realities of gender and sexuality in our society. I often audition for one dimensional characters that are meant to represent entire groups of people.
Meet Cute is a bisexual rom-com. The two leads don't adhere to the accepted labels of sexuality. They are outcasts and they find themselves allied in their attraction, and pursuit for authenticity.
Shauna Johannesen: Trying is a short romantic comedy about a couple trying to have a baby. It's a kind of "What to expect when you're not expecting…" I'm a writer and actor, and really wanted to take this opportunity to direct something I've written, so I could help shape the story from beginning to end.
Shannon Kohli: A Family of Ghosts is a love story set in the early 1900's. Twenty-year-old Abigail has spent her entire life dealing with her meddling grandparents — who just happen to be ghosts. It's a sometimes strained, but ultimately loving relationship, until her ghostly caretakers go one step too far, and deem yet another suitor not good enough for their darling granddaughter.
Jesse Lupini: I grew up in Victoria, and I've been passionate about creative storytelling and film my whole life. I made my first short at age 8 with a handicam in my back yard, and haven't looked back since.
Iteration 1 is the story of Anna, a woman who wakes up in a bizarre facility where her actions echo forward in time. Every sixty seconds she dies, then reawakens in the company of ghostly versions of her previous lives. Forced to relive her past mistakes, she must also learn to work with her past and future selves to escape the terrifying conditions she's trapped in.
Science fiction has always been my favourite genre to work with. I grew up watching Star Trek every Saturday morning, and I've been fascinated ever since with ways to shed light on everyday problems by telling stories about far-off worlds and ideas. While Iteration 1 is definitely a fun sci-fi puzzle film, it's really a metaphor for how we live our lives. We often feel stuck in vicious cycles that threaten to consume us, and sometimes you have to think outside the box in order to escape.
Joel Ashton McCarthy: Our film is a romantic comedy from the twisted perspective of a psychopathic female serial killer.
Can you tell us about how the idea for your film came to be and what your creative process was like in making it come to life?
Matthew Campbell: The idea for the film actually came from the two writers, Chris Wilson and Peter Carlone, who make up the comedy team Peter n' Chris. Both are award-winning Canadian comedians who've written for Just For Laughs, etc. The creative process was a lot of discussion and re-writing a sketch/radio skit to make it a visual format that still had the funny they had in their skit.
Patrick Currie: Brendee Green and I met on the set of Proof. We were both 'day players': she was a nurse, I was a longshoreman. I showed her the teaser for a short I had produced, and she asked, right away, "Are you Bi?" I said yes, and we began writing a web-series about being bisexual. Then, Crazy8s submissions came along and we adapted what we were writing for the contest. And here we are.
Shauna Johannesen: I watched so many friends and acquaintances struggle with fertility or trying to plan the best time to have a baby, only to discover that this is one of those things that doesn't always work according to plan. In fact most people had been trying NOT to get pregnant for so long that it almost seemed ironic that now it was so difficult. It makes you think differently about the words "birth control," because there's often not nearly as much control as you might like. But I wasn't seeing a lot of these stories in film. There are romantic comedies about finding love, getting married, and getting pregnant, but I wasn't seeing anything about what happens when you're ready to be parents and there's no baby. Plus, there's so much comedy available in unsexy sex that I had to write it.
Shannon Kohli: I liked the idea of loved ones looking out for you even when they had passed away. Although parents and grandparents want the best for their children, they have to respect boundaries and allow them to make their own choices and mistakes. Abigail lets her grandparents meddle, but when it matters, she learns to take control of her of her own life.
Jesse Lupini: The concept for the mechanism behind Iteration 1 came from an old flash game called Cursor*10 where your mouse cursor duplicates, and you need to use these multiple cursors to solve puzzles to advance to the next level. I proposed an idea for a story inspired by this idea to my co-writer Lucas Kavanagh, and together we started to develop what would eventually become Iteration 1.
We started by building up the rules of the world, and discussing how someone might feel if they had to confront their past lives in such a strange situation. We used these conversations to paint the broad strokes of the plot, and got to writing. Since Lucas was halfway around the world on a boat for the writing period, we sent scripts back and forth, working drafts and notes while the other was sleeping. It was weirdly effective, and we ended up with a really strong script for it.
Joel Ashton McCarthy: Embarrassingly enough it came from the fact that we wanted to enter Crazy8s and the day before we didn't quite have an idea. I called my writing partner Mike Doaga and we decided we wouldn't end the phone call until we had a story we loved. After a long call we finally did, and we have been re-writing and re-shaping it ever since.
What was the most memorable moment for you in the Crazy 8s process?
Matthew Campbell: Working on set with so many talented comedians was just amazing. Peter and Chris are so collaborative and funny, plus they brought out so many talented locals from the comedy scene that just really brought the funny to life. Seeing the action and comedy work so well together was so amazing.
Patrick Currie: Walking into the church on the first Friday. 50 background performers, the actors, a fully lit set, a huge lighting balloon floating up at the ceiling to light it all. It was overwhelming. And the last frame of the film, when we shot it, Andy Hodgson, the DP and I looked at each other, and we knew we had it, despite not getting the equipment we thought we needed.
Shauna Johannesen: Um… watching my good friend Patrick Gilmore bare his backside for comedy might be right up there. I could not stop laughing. That, and having to make multiple pleas on social media for pregnancy tests and model vaginas. That's indie film.
Shannon Kohli: Being on set everyday with our fantastic cast and crew. Seeing the production design, costumes, the horses and the whole story coming to life. It was a dream come true.
Jesse Lupini: The process is a whirlwind from start to finish. Pre-production was a non-stop month and a half preparing for the eight days of the actual Crazy8s event. I'm always more relaxed once I get to set – that's where I'm really in my element. The whole thing has been one massive adrenaline rush, but the most exciting moment was probably watching the first scene unfold on the monitor. I've been working on the script and pre-production for what feels like forever, so I had this strong, fully-formed sense of what I thought the film would look like. This was the first time that what I was seeing on the monitor surpassed what I'd imagined in my head. Katharine Isabelle and Zak Santiago's performances were incredible right out of the gate, and the frame just looked beautiful. I couldn't stop grinning.
Joel Ashton McCarthy: My most memorable moments have a lot of spoilers, so I'll say it was when I showed up on set the first day to see a crew of over 50 people working on the film. There is something so humbling and terrifying about having an army backing the film. But it really put the pressure on for us to not screw it up. After all, if the film doesn't turn out, most blame the director.
What would your advice be for filmmakers considering Crazy 8s?
Matthew Campbell: Plan, plan, plan. Knowing exactly what you need, and not overshooting is a critical step in using your limited time and resources to their fullest.
Patrick Currie: Love your story. Passion drives creation. If you're just trying to 'make a movie' you might get in. But, if you're passionate about what you are creating, the people who join you will give you everything they have. Dig deep, say something new.
Shauna Johannesen: Do it. Make something. Pitch something. And then get the best team you can find.
Shannon Kohli: You're only as strong as your team. You need to surround yourself with really good positive supportive people.
Jesse Lupini: As I'm writing this, it's 5:00 am, with the final delivery of the film due in 13 hours. Everyone on the team has pulled off multiple all-nighters, and at this point all I can think about is how excited I am to sleep. My Fitbit tells me I've had an average of 3.5 hours of sleep per night in the last week. That sounds brutal, and it most definitely is, but regardless of how much my body may hate me for it, this is an experience I'll never forget. If you have a passion for storytelling and want to try your hand at this crazy industry, just send in a pitch for next year's event. Lucas and I went in thinking we were a long shot. Everytime we made it to the next round we were surprised, right up until I got the phone call that we were in the final 6. If you're considering taking part in Crazy8s, just be prepared for the roller coaster ride of your life. I've hit the full spectrum of emotions that are possible for me to feel in the last 30 days. Seriously, all of them. Go with the flow and be a sponge. Absorb everything you can, from the knowledge you'll acquire to the connections you'll make. It's quite a ride.
Joel Ashton McCarthy: Be prepared to work your fucking ass off and take time off work. Sorry for the language but I need to emphasize how much work it is. What makes it tough is that they award the top 6 and BAM, you're shooting just weeks later, so you essentially have to pre-emptively take time off and assume you're in the top six. I didn't do that, so I was scrambling to get people to cover me because I was scheduled to be on set the first 2 weeks of prep.
What's the most important lesson you've learned in your career thus far?
Matthew Campbell: Networking is everything. This comes from being kind, respectful, and making sure everyone has a voice of some sort in your project. People want to work with those they feel respect them and their opinions.
Patrick Currie: If you want something, be prepared to deliver. I look back now on moments, when I was just acting, and realize I didn't know what was required of me. Those who make it in acting do so because they understand the entire process. Making movies is a gift. But you must know your place. I had a limited understanding, as an actor, how I fit into the process. JD Thiessen, who came on board as director's assistant is a very smart young actor, he was there every second, quietly figuring out how each person functions on set, and it's going to make him a better actor.
Shauna Johannesen: No one is going to do it for you. You can't wait around for someone to notice your passion or your talent or your gifts. You need to make your own things.
Shannon Kohli: There are three films. The one you write, the one you shoot and the one you edit. Be flexible to allow the changes as the film evolves.
Jesse Lupini: As a director (or really anyone in film), it's so important to know exactly what you want. Being decisive, and then clearly communicating what you want, is absolutely vital. One of the things that surprised me was how much people seemed to love our script. I think not only does something about Anna's journey really strike a chord with people, but also the fact that we've taken on such an ambitious project for Crazy8s. Passion attracts passion, and we have a lot of talented people on board who've come together to make Iteration 1 happen. Don't be afraid to try something that seems impossible. Be bold.
I think what drew many people to the script of Iteration 1 was it doesn't read like it's possible to do in an eight day filmmaking intensive. A big part of this may have been that Lucas and I were simply naive about how hard it would be, but looking back we're so glad we were ambitious, as it allowed us to build a talented team of people who were excited by the challenge. Be bold and be clear.
Joel Ashton McCarthy: The worst thing you can do to an audience is to make them bored.  You can make them laugh, make them cry, challenge them, or offend them but if you make boring content you are creating the biggest cinematic crime. So don't feel you have to make safe content, there is too much of that shit out there. Stand out from the crowd.
What books would be valuable for a filmmaker to have read before participating in Crazy 8s?
Matthew Campbell: Save The Cat! by Blake Snyder– a book about scriptwriting and story.  Industry standard, will really help you lock down what you need to tell to have a story worth telling.
Patrick Currie: I'm an actor/director. I direct the story and performers more than anything else. The DP and other departments I worked with are aware of this. I'm learning about the technical side as I go, and really loving it. But right now I'll speak as an actor's director.
In order to get strong performances you need to understand the actor's process. I always go back to Uta Hagen's Respect for Acting when I have to guide an actor through the basics. And Audition by Michael Shurtleff. Someone on set recommended On Directing Film by David Mamet and I'm looking forward to diving in to that one. And Harold Pinter's Betrayal is a play everyone needs to read.
Shauna Johannesen: That's a really good question. I should definitely read some filmmaking books. I borrowed a whole stack from a friend to read over Christmas but I was so busy writing and rewriting my script that I only got halfway through The Conversations: Walter Murch and the Art of Editing Film by Michael Ondaatje. But it's fascinating! I highly recommend it.
Shannon Kohli: What They Don't Teach You at Film School: 161 Strategies For Making Your Own Movies No Matter What by Camille Landau, Film Directing Shot by Shot: Visualizing From Concept To Screen by Steven D Katz, and Cinematography: Theory and Practice: Image Making for Cinematographers and Directors by Blain Brown.
Jesse Lupini: To be honest, I don't really read books on filmmaking. I probably should, but I always want to read the kinds of stories that I like to tell. I'd say find what genre you love and read a lot of it. Filmmaking is storytelling, so first and foremost you need to learn how to lead your audience through a compelling story. The most recent book I read was Leviathan Wakes, the first book in the series The Expanse, which was just adapted into a new SyFy series. It's fantastic, and I love seeing the process of adapting a book to the screen.
Joel Ashton McCarthy: A great bunch of books for filmmakers is Rebel Without a Crew by Robert Rodriguez, Save The Cat! by Blake Snyder, Story by Robert McKee and The Tipping Point by Malcolm Gladwell. But half of making films unfortunately is a bullshit political game, so I'd recommend How to Win Friends and Influence People, and The Art of Seduction. Both of books will make you feel sleazy for reading them, but it's important to have people want to work with you.
What other projects are you working on and where can we find out more about you?
Matthew Campbell: I just finished shooting Nightwing: The Darkest Knight, a DC Comics fan film. I am developing a web series with a local production company and also a feature film with some of the producers from Grocery Store Action Movie. I have a website that includes my demo reel and a bit more about me.
Patrick Currie: Follow us on twitter @meetcutefilm to be updated on Meet Cute. I'll be heading to Comicon in Stuttgart, Germany in June, which is a great chance to promote the movie to my Stargate fans. I'm working away on a couple other feature scripts to follow up Meet Cute. And I'm ready to put my focus back on my acting career. It's taken a bit of a back seat during this Crazy8s ride.
Shauna Johannesen: My first professional play, Common Grace, was just produced at Pacific Theatre and I was actually performing in that while we were filming our Crazy8 film…. as though things were not crazy enough. I'll be on stage again at Pacific Theatre in April for Kathy Parson's A Good Mother. Beyond that, I'll be working on a pilot, a feature and going back to auditioning. You can find me on Twitter and on my website.
Shannon Kohli: I'd love to shoot a few more short films this year and I've also been working on some feature scripts. I've also optioned two novels to direct as features: Me & Emma by Elizabeth Flock and Three Souls by Janie Chang.
Jesse Lupini: I tend to have a lot of projects on the go at once. Iteration 1 isn't the first project I've worked on with Lucas. We have a weekly science news podcast called Double Blind. It's on hiatus while we finish up with Crazy8s, but we'll be back at it soon – you can learn more at DoubleBlindScience.com.
I'm also finishing post production this month on a sci-fi short I directed back in November called Qualia. It explores the simulation hypothesis – the idea that our entire universe could be a computer simulation. You can find updates on this and all my other upcoming projects at JesseLupini.com.
Joel Ashton McCarthy: I'm currently developing what I hope will be my third feature. It is a horror comedy so my Crazy8s film is a perfect calling card, but I'm still keeping much of the plot under wraps for now. But my last feature comes out this summer – it is a micro budget comedy about a group of friends making a high school shooting musical called Shooting The Musical. And you can follow me on my Facebook fanpage. Lots of fun projects ahead.
—–
Thanks to the filmmakers for speaking with us!
You can see all of these great filmmakers and their films at the Crazy8s 2016 Gala on Saturday, Feb 27th. For ticket information please visit Crazy8s.film!