Contests
Published on January 5th, 2016 | by Biz Books
13 Hours: The Secret Soldiers of Benghazi Movie Contest
BizBooks.net is offering the chance to attend the advance screening of 13 Hours: The Secrets Soldiers of Benghazi in Vancouver.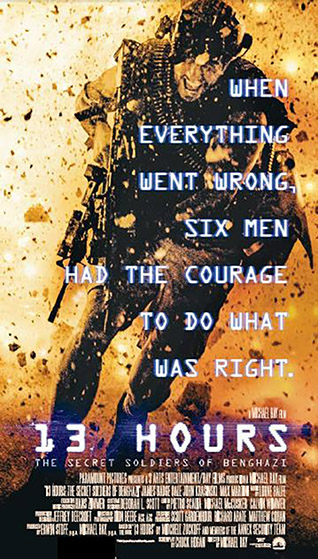 Film Details
From director Michael Bay, 13 Hours: The Secret Soldiers of Benghazi is the gripping true story of six elite ex-military operators assigned to protect the CIA who fought back against overwhelming odds when terrorists attacked a U.S. diplomatic compound on September 11, 2012.
When everything went wrong, six men had the courage to do what was right. Based on the nonfiction book "13 Hours" by New York Times bestselling author Michell Zuckoff and Members of the Annex Security Team.
Starring James Badge Dale, John Krasinski, Max Martini, Pablo Schreiber, Toby Stephens, Dominic Fumusa, Matt Letscher, David Denman, David Costabile, David Giuntoli, Demetrius Gross, and Alexia Barlier.
In theatres January 15th, 2016.
Screening Details
Date: Wednesday, January 13th, 2015
Theatre: Fifth Avenue Cinemas
*you must be 19 years of age or older for admittance to this theatre
Time: 7pm
How to Enter
Please send an e-mail to info@bizbooks.net and please include this information:
"13 Hours Movie Contest" in the subject line
Winners will be selected at random and will be contacted by e-mail.
---