Listicles
Published on February 13th, 2023 | by Biz Books
5 Valentine Plays You've Never Heard of
Love Stories you need to read!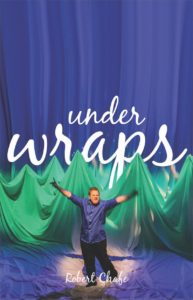 Under Wraps is a full-length drama by Robert Chafe. Mark is a nervous gay with a crush on a good-looking stranger. David is probably heterosexual but friendly enough toward Mark to keep him both interested and in a perpetual state of confusion. Under Wraps is a lyrical and laugh-out-load story of hopeless love and hard-won acceptance.
Shakespeare's R&J is a full-length drama by Joe Calarco. When a repressive all-male Catholic boarding school bans Romeo and Juliet in favour of Latin conjugations and the Ten Commandments, four students unearth a secret copy of the script and steal into the night to recite the prohibited tale of adolescent passion. What begins as a lark gradually yields surprising discoveries about greed, love, and adulthood. A refreshing contemporary adaptation of Shakespare's Romeo and Juliet. Four actors with no set, no costume changes and no props bring the essence of this classic tragedy vividly alive with the sheer theatricality of this timeless story.
The Way We Get By is a full-length drama by Neil LaBute. This two-hander follows the aftermath of a one night stand between two guests who wake up together following a drunken wedding reception and share a very awkward morning-after conversation about sex, society, and how much they really care about what other people think.
Finalist for the 2018 Governor General's Literary Award (Canadian equivalent of the Pulitzer Prize)
Gertrude and Alice is a full-length drama by Evalyn Parry and Anna Chatterton, in collaboration with Karin Randoja. The two-hander chronicles the romantic, sexual, social and work life of 20th-century literary icon Gertrude Stein and her devoted partner of nearly 40 years, Alice B. Toklas. Gertrude and Alice is the highly acclaimed story of their remarkable life together.
The Gentleman Caller is a full-length drama by Philip Dawkins. Before becoming icons of American theatre, Tennessee Williams and William Inge were just two aspiring playwrights sharing a night together, shut away from the world's judgment. As the liquor flows and confessions begin to spill out, these men reveal sides of themselves the public never saw, in all their vulnerabilities, flaws, and triumphs.
Enjoy and comment below with your picks!