Listicles
Published on September 27th, 2022 | by Biz Books
7 Indigenous Plays You Need to Read
Indigenous plays you need to read!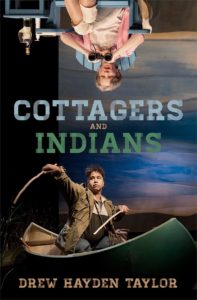 Cottagers and Indians is a full-length comedy by Drew Hayden Taylor. Wild rice sparks a battle royal between an Indigenous farmer and a white cottager, whose increasingly bitter dispute becomes a microcosm for reconciliation. Told with warmth and humour, and encompassing issues of community, respect and ownership, Cottagers and Indians is a tale for our times – and a food fight for the ages.
This Is How We Got Here is a full-length drama by Keith Barker. A mother, father, aunt, and uncle are stumbling in the dark one year after a tragic loss. They struggle to find each other again, when a mysterious fox shows up with a curious gift. Simultaneously heartbreaking and heartwarming, This Is How We Got Here is a complex and hopeful story of letting go.
Iron Peggy is a full-length drama by Marie Clements. Her first play for young audiences, Iron Peggy is about boarding-school bullies and Indigenous soldiers in World War I. A powerful play that will appeal to audiences both young and old, Iron Peggy was written to commemorate the 100th-year anniversary of World War I and celebrates not only Indigenous participation in the war effort, but also a young girl's personal victory.
Stretching Hide is a full-length comedic drama by Dale Lakevold and Darrell Racine. The wardens are looking for a poacher in this play about a contemporary Métis community's attempt to reconcile its past. Stretching Hide takes place in the chaotic home community of a young Métis lawyer, who is showing his fiancée around. His legal practice and his personal life converge when he is accused by the provincial game wardens of poaching a deer for its antlers.
Redpatch is a full-length drama by Sean Harris Oliver and Raes Calvert. More than four thousand Indigenous Canadians signed up to fight in the First World War. Redpatch plays tribute to the warriors who saw the Great War as an opportunity to be part of the "new world" they had been assimilated to. Their bravery came at a cost.
Women of the Fur Trade is a full-length comedy by Frances Koncan. Sometime in the 1800s, three very different women (with twenty-first century affinities) sit in a fort sharing their views on life, love, and who they're crushing on. Women of the Fur Trade is a historical satire of survival that shifts perspectives from the male gaze to women's power in the past and present through the lens of the Canadian Fur Trade.
Only Drunks and Children Tell the Truth is a full-length drama by Drew Hayden Taylor. The heartwarming, emotional and funny story of Janice, an Indigenous woman adopted by a white family, who returns to the reserve in the wake of her birth mother's funeral. Janice finds herself struggling to find a place where the culture of her past can feed the truth of her present… connecting these two lives is proving to be a challenge.
Truth and Reconciliation Day is September 30th.