Interviews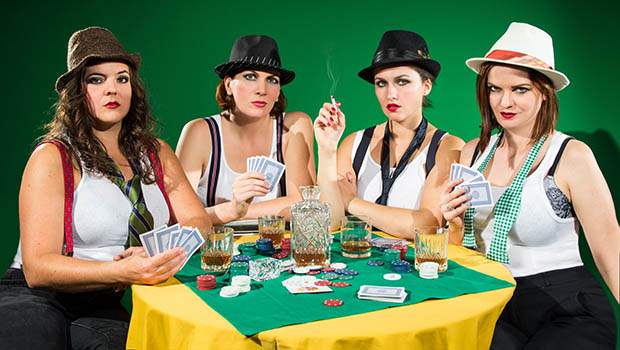 Published on March 8th, 2016 | by Biz Books
The Biz Interview: Strapless
The sketch comedy geniuses of Strapless Comedy have been putting the fun into funny for audiences across Canada since 2013.
Now, the all-female Vancouver group that features Jackie Blackmore, Iva Kapsikova, Sidika Larbes and Lauren Martin are putting the finishing touches on their newest show, Strapless: Unstrapped, set for Friday, March 11th at The Evergreen Cultural Centre.
We spoke to them to find out more about their gutsy and gut-busting sketch comedy ways.
________________________________
Why don't you start by telling us a little bit about you?
Strapless Comedy is four fearlessly funny females who enjoy acting silly, pushing boundaries, and dressing up like men. Individually we are Jackie Blackmore, Iva Kapsikova, Sidika Larbes and Lauren Martin. We've been together since 2013 and have enjoyed entertaining  audiences and selling out shows across Canada. We've been described as the all-female 'Tits in the Hall!'
How would you describe sketch comedy to someone who has never seen or performed it?
Short, scripted, self-contained, comedic scenes. Strapless writes, acts and produces their own sketches and performs regularly in front of a live audience. Some examples of sketch comedy are: Carol Burnett, Monty Python, SNL, Portlandia or Key & Peele.
What inspired you to get involved with sketch comedy and what do you get from it?
We all watched sketch comedy as kids, so seeing strong, funny female characters on television was a huge influence and made us all want to follow in their footsteps while also  seeking out our own unique voices as writers.
What we get from sketch is the gratification of making our audiences laugh, forget their troubles for a while and hopefully afterwards see them all in a twisted new light!
How did Strapless come about?
Strapless was formed as a pop group in 1998 by a Swedish music producer. After losing 'Best New Artist' at the Grammys, and grappling with Lauren's cough syrup addiction, they lost a founding member when Beyonce decided to go solo. Her loss, really. Strapless regrouped in 2013 as a sketch comedy troupe and have been living 'tits-to-the-wind' ever since.
Tell us about Strapless: Unstrapped and what audiences should expect.
Strapless was thrilled to be asked by The Evergreen Theatre to perform a Mainstage show as part of their Comedy Series on Friday, March 11th, 2016. We started writing our new show last fall but don't worry there will also be a couple of fan favourites from our wildly popular Fringe Tours!
You won't want to miss The Golden Girls doing The Godfather! The Voice Over audition from Hell! Or a performance from your friendly neighbourhood Butchershop Quartet!
Not to mention, our Strapless Riverdance has to be seen to be believed!
From your standpoint, what makes for an effective sketch?
A clear, strong comedic premise. Jokes that continue to build, develop and evolve. Well-crafted, fun physical characters. And the willingness to take big risks.  Boobs also help.
What is involved with the preparation of a show?
A lot of chin-ups and squats with some binge eating between rehearsals. Strapless has a firm rule that all tears due to exhaustion must be shed in the cry room/bathroom.
What advice would you give to someone who wants to get involved with sketch comedy?
Just Do It! Please don't sue us, Nike.
What books and authors have been influential in your career so far?
Born Standing Up – Steve Martin
Tragically, I Was An Only Twin – Peter Cook
Chelsea Handler, and of course, the Coles Notes version of Hamlet.
Where can we find out more information about you?
Find out more about us and get info & tickets to our upcoming show at: StraplessComedy.com!
________________________________
Thanks to the ladies of Strapless – Jackie Blackmore, Iva Kapsikova, Sidika Larbes and Lauren Martin – for speaking with us!
Buy tickets for their March 11th show at StraplessComedy.com.