Interviews
Published on April 26th, 2016 | by Biz Books
The Biz Interview: Tammy Gillis
With her hot streak of well-received performances on highly-rated projects, you'd be hard-pressed not to recognize Tammy Gillis. With the audience favourite Unleashing Mr. Darcy and the gritty Signed, Sealed, Delivered movies for Hallmark serving as just a few of her recent highlights, Tammy Gillis is continuing her busy ways with the feature film, Menorca, and has also added directing to her repertoire with the recently released web series, The Support Group.
Just ahead of a special screening of The Support Group at the Women in Film & TV/Cineworks Showcase on April 27th, we talked to Tammy Gillis about her success and creative influences.
________________________________
Can you start by telling us more about you?
I am an actress, a director and an acting coach.  A small town Manitoba girl who is very passionate and driven in my career.  I love to always be creating.  I enjoy helping others pursue this amazing and crazy dream.  My motto is life has always been "Whether you think you can or you can't, you're right."
How did you get started in acting? Was there a moment when you knew this was what you wanted to do?
I remember the exact moment.   I was just about to step onto the stage for the very first time in a school play.  I had the role of Grandpa.  That is not a typo.  Grandpa.  I had this crazy instinct to grab a shirt and stuff it down the front of my pants, so I did.  Then I stepped on stage, "adjusted" myself with a bit of a "hmmff" and got a massive laugh from the audience.  I'll never forget that feeling.  That was the moment I was hooked.  I performed in plays for the remainder of high school, then was approached by a modelling agent in Winnipeg in university.  I began auditioning for various projects and taking acting classes.  I started booking and the rest is history.
---
---
The Support Group – the web series that you directed, produced, and edited – will be screening soon in Vancouver on two different dates. How did you become involved in that project?
The creators of the series, Sydney Doberstein, Laura Carly Miller and Lily Zarif, asked me if I would be interested in directing the series. I've previously worked with them as their acting coach and know how driven, creative and professional they are. I really liked how they were already creating their own projects with their theatre company, Beyond Theatre Productions. I was really honoured they asked me. I took a look at the scripts and after reading them, thought it would be a great project for my directorial debut.
We are very excited to be included in the WIFTV/Cineworks screening on April 27th and The Open Mic Night at The Rio on May 26th.
What's the most important lesson that you learned from the experience of directing a web series?
The most important lesson I learned was to have the courage to trust my instincts and say what I wanted without apology. I was really surprised (and saddened) at how some people responded to a female director and had to learn to shake that off and focus on doing my job.
You are also starring in the new feature, Menorca. What can you tell us about that project?
I am very excited for Menorca to come out!!  It was a very challenging and exciting movie to be a part of.  Menorca is an independent feature film from Farpoint Films about a hedonistic soccer mom that embarks on a strange journey of self-discovery and seeks to reconnect with her estranged son by returning his pet rock back to the island of Menorca, Spain.  We shot the project in Manitoba and Spain last summer.  It was really incredible to be able to go back to Manitoba and work with people that I worked with in the beginning of my acting career, and of course, filming in Spain was pretty spectacular.  I have worked with the director, John Barnard, a number of times now and was so honoured that he trusted me with this role.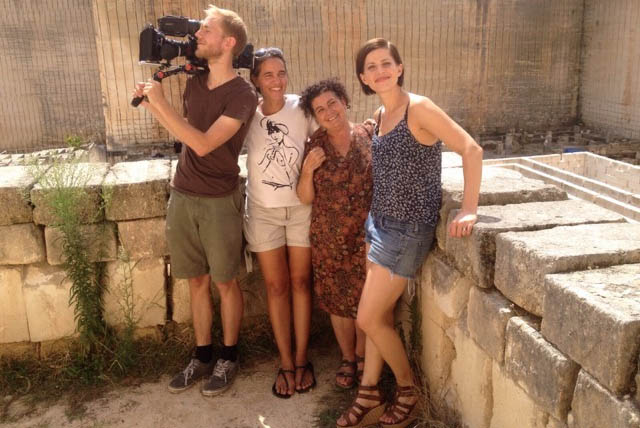 Behind the scenes on location in Menorca:  DOP – Markus Henkel, Rosa Preto, and Tammy Gillis.
You are originally from Manitoba. How does the arts and entertainment scene that you've enjoyed in Vancouver compare with what you've experienced back home?
It's very similar in a lot of ways, just a lot bigger and more opportunity here in Vancouver.
What's the best thing about acting and directing in Vancouver?
The wide range of opportunities that exist here. The incredible community of people. I love how you can go from working on a big budget project to a low budget indie and work with some of the same people who just really love creating and telling stories.
What books and authors have been influential to you in your creative journey so far?
I read a lot of books, at least 2 or 3 a month.  The Alchemist is one of my favourites.  I recently read Shonda Rhimes' book The Year of Yes and absolutely loved it. Think and Grow Rich by Napoleon Hill. The Slight Edge is brilliant. I also really loved Seattle Seahawks head coach Pete Carroll's book Win Forever.  A great directing book that was recommended to me by Kelli Williams from the TV series Ties That Bind was Directors Tell The Story by Bethany Rooney and Mary Lou Belli.  A great book on the industry is Adventures in the Screen Trade.  I could go on and on.
What other projects do you have going on at the moment?
I'm currently filming a leading role in a romantic comedy (at this moment, that's all I'm allowed to say).
The feature film Menorca is almost finished and hopefully be hitting the film festival circuit.  It has already secured Canadian distribution through IndieCan Entertainment which is very exciting!
I have plans to direct a short film this year and I'm also currently writing a couple of screenplays.
Where can we find out more about you?
You can check out my website tammygillis.com
Or social media:
Instagram:  @RealTammyGillis
Facebook:  TammyGillisOfficial
Twitter:  @RealTammyGillis
________________________________
Thanks to Tammy Gillis for speaking with us!
Check out The Support Group on April 27th at the WIFTV/Cineworks screening and The Open Mic Night at The Rio in Vancouver on May 26th.
You can also see Tammy Gillis opposite Danica McKellar, Kavan Smith, and Bruce Boxleitner in Wedding Bells on June 4th on The Hallmark Channel.