Contests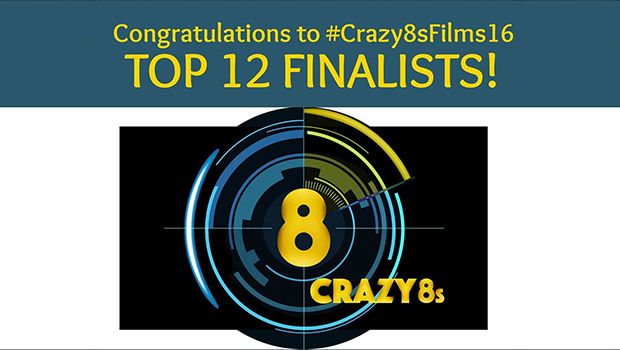 Published on December 1st, 2015 | by Biz Books
Crazy8s 2016 Top 12 Finalists
BizBooks.net is pleased to support Crazy8s 2016!
After much deliberation, we are pleased to announce the Top 12 finalists who now advance to the script stage. Over the past weekend the incredible Top 40 pitched to our In-Person Jury comprised of our own Catherine Lough Haggquist, Glen Schaefer, Jem Garrard, Kaare Andrews, Katie Weekley and Zach Lipovsky. This was quite a difficult year for narrowing down the list! We seriously encourage everyone who pitched their film to keep persevering and get it made!
Here are the Crazy 8s 2016 – Top 12 Finalists!

Arranged
Director: Rohit Chokhani
Writers: Rohit Chokhani and Ashley Rose
Producer: Ashley Rose
An inter-racial couple embarks on a journey to bring an understanding of eastern traditions and western values to arrange their own wedding. How much will each family need to adapt to the others' culture? Will they be able to coexist?
A Family of Ghosts
Director and Writer: Shannon Kohli
Producer: Rob Meekison
Even the grave can't stop Abigail's grandparents from ruining her love life.
Grocery Store Action Movie
Director: Matthew Campbell
Writers: Peter Carlone and Chris Wilson
Producers: Ryan Silva, David Kaye and Jameson Parker
A man on the brink of checking out realizes he has forgotten the crackers. In a race against time he will risk life and limb in an attempt at the impossible: retrieve the crackers before the person in front of him pays…
I Love You So Much It's Killing Them
Director: Joel Ashton McCarthy
Writers: Joel Ashton McCarthy and Mike Doaga
Producers: Nach Dudsdeemaytha & Marena Dix
An unconventional rom-com told from the perspective of a serial killing accountant with a heart of gold
Iteration 1
Director: Jesse Lupini
Writers: Jesse Lupini and Lucas Kavanagh
A man must complete a series of bizarre puzzles with the help of his literal past lives, after waking up in a strange white room where his progress resets every 60 seconds
Meet Cute
Director: Patrick Currie
Writers: Patrick Currie and Brendan Green
Producer: Michele Picard
An unexpected first kiss initiates an unravelling in the lives of two strangers as they discover their undeniable attraction challenges everything they thought they knew about themselves.
Mystery Meat
Director: Jim Van Dijk
Writer: Hannah Van Dijk
When a Food Critic with the power to make or make or break her new restaurant comes for dinner, talented but anxious chef Harriet must battle her insecurities – which appear in the form of a giant pink rabbit – in order to create the perfect dish.
NPC
Director: Katherine Hill
Writer: R. Morgan Slade
Producers: Annette Reilly and Greg Delmage
After mysteriously losing out on one too many performance awards, a determined type-A desk worker must discover the truth behind her undeserving losing streak before her last chance at recognition is handed to the company's current favourite: the office clown.
Resuscitate
Director: Chris Aitken and Denis Ogrinc
Writers: Chris Aitken and Denis Ogrinc
Producer: Rory W Tucker
Jon, an unambitious lifeguard, shocks a CPR dummy to life during his first aid training. Jon and the dummy become best friends during an adventurous afternoon and the two learn something about themselves they could not have done without each other.
Trying
Director and Writer: Shauna Johannesen
Producer: Lulu Pan
A seemingly simple decision becomes a wholly unsexy obsession for a 35-year-old high school teacher and her husband trying to penetrate the mysteries of biology and get knocked up.
Unintentional Mother
Director and Writer: Mary Galloway
Producer: Jaykaybie Brown
For an Aboriginal girl who must choose between running from her abusive father or staying as a devoted nanny, family is all about perspective.
Unlock
Directors: Orsy Szabo and Krista Rand
Writers: Alexandra Shewan, Orsy Szabo and Krista Rand
Unlock is a love story that follows Helena across Canada by train, as she retrieves a love lock and reclaims her freedom