Listicles
Published on September 6th, 2022 | by Biz Books
Our Back to School Picks for Teachers!
Drama teachers, we've got you covered!  Check out our selection of Teacher Tools!
A reference for high school theatre teachers covering both curricular and extracurricular problems. Everything from:
-How to craft a syllabus for a theatre class
-To what to say to parents about a student's participation in a school play.
Our Price: $65.95 CDN
The first book focuses on everything about a complete stage production. The Drama Teacher's Survival Guide # 2 covers every aspect of classroom theatre arts.
Students will explore:
-group activities
-improvisation
-technical theatre
-choral reading
-mime
-stage fighting
-and more!
Our Price: $24.95 CDN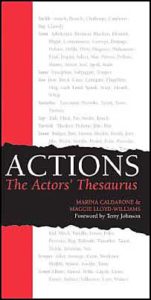 A Biz Books Bestseller!
Actions: The Actors' Thesaurus is a no-nonsense must-have for every actor and director. Action words are long a secret of the acting community. It is a widely used rehearsal and performance technique. This thesaurus pulls these vital action-words together in an organized and comprehensive format. The actor can refine the action-word until s/he hits exactly the right one to help make the action come alive.
Our Price: $26.95 CDN
Welcome back teachers!