Contests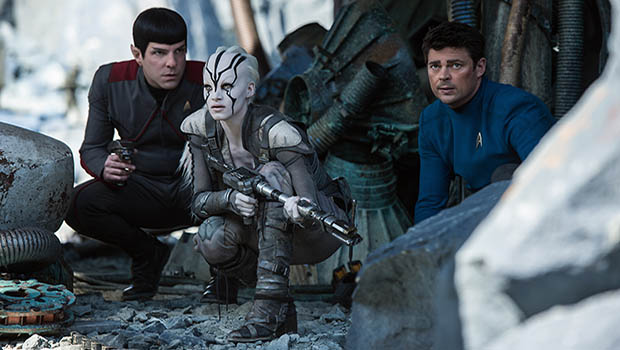 Published on July 13th, 2016 | by Biz Books
Star Trek Marathon Movie Contest
Enter for a chance to win a double pass to see Star Trek Beyond before it opens – at a one-night only Star Trek Marathon fan event on July 20th at Scotiabank Theatre Vancouver!
Details
The one-night-only event will feature special screenings of J.J. Abrams' Star Trek and Star Trek Into Darkness, and Justin Lin's Star Trek Beyond for the price of a single Marathon admission. Each Star Trek Marathon ticketholder will receive an exclusive Star Trek full-size collector's poster designed by a Gallery 1988 artist and a Star Fleet T-shirt iron on patch while supplies last.
Star Trek Beyond, the highly anticipated next installment in the globally popular Star Trek franchise, created by Gene Roddenberry and reintroduced by J.J. Abrams in 2009, returns with director Justin Lin ("The Fast and the Furious" franchise) at the helm of this epic voyage of the U.S.S. Enterprise and her intrepid crew. In "Beyond," the Enterprise crew explores the furthest reaches of uncharted space, where they encounter a mysterious new enemy who puts them and everything the Federation stands for to the test.
For Marathon details, visit: cineplex.com/Movie/star-trek-marathon
In theatres July 22nd, 2016.
Screening Details
Date: Wednesday, July 20, 2016
Theatre: Scotiabank Theatre, presented in UltraAVX
Screening Times:
Star Trek – 5:10PM
Star Trek Into Darkness – 7:25PM
Star Trek Beyond – 10:00PM
How to Enter
Please send an e-mail to info@bizbooks.net and please include this information:
"Star Trek Marathon" Movie Contest in the subject line
Winners will be selected at random and will be contacted by e-mail.
---