Interviews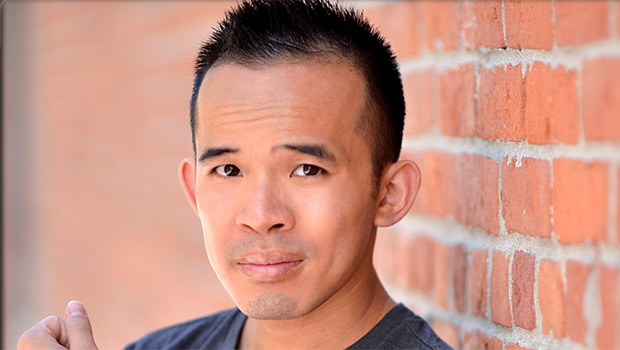 Published on November 26th, 2015 | by Biz Books
The Biz Interview: Chris Lam
It's the season for holiday theatre and Pacific Theatre takes its inspiration from 1940s style live radio format for a unique spin on a holiday classic with A Christmas Carol: On the Air by Peter Church.
Opening on December 4th, this production is directed by Sarah Rodgers and features a cast that includes Peter Church, Matthew Simmons, Chris Lam, Diana Squires, Paul Griggs, and Kirsty Provan. We spoke with Chris Lam about his involvement in this production and what went into this incarnation of the Charles Dickens classic.
________________________________
What is your involvement with A Christmas Carol: On the Air and how did that get started?
This year I'm doing voices for multiple characters and musically directing all the musical sections of the piece. I was involved last year with Pacific Theatre's It's a Wonderful Life radio play primarily playing many voices and dancing in a sombrero. I was invited back to read for this version of A Christmas Carol as I've already established a working relationship with director, Sarah Rodgers and adapter, Peter Church and they were excited to see if I can fill the shoes of musical director and operating most of the Foley sounds.
What drew you to be a part of this production?
Initially, there was talk of remounting It's a Wonderful Life, because it had been very successful and the idea was to remount with the original cast. The radio play conceit is one that doesn't get done often in Vancouver, however, Pacific Theatre ended up going with an adaptation with Christmas Carol which is in some sense the original version of Wonderful Life. But it will be great to work with Sarah Rodgers and Peter Church again and working at PT, which is just a like second creative home for me.
---
---
Can you share some of your creative process in preparing for the role – from the initial planning all the way to opening night? 
Because the show is primarily a radio play, the focus is really generating distinct character voices, and usually the presentation is pretty static. We want to listen to the voice and the text, but Sarah wanted to make it visually more interesting by staging it with more movement like a staged reading, so there is a fun layer of watching the process of radio play actors creating voices and playing with the expectation of how one is actually seen when doing radio. "A face for radio" ring a bell? Our rehearsal process is short because essentially we don't have to memorize our lines, but having the familiarity of the text and versatility in manipulating voices make it an intense and urgent production.
What should audiences expect from this show?
The "studio" cast returns to do a reading of A Christmas Carol.
What are the three most important ingredients for a successful stage production?
Generosity, playfulness, and discovery.
Are there any books or authors that have been influential to you so far in your creative journey?
I love reading pulpy novelists such as Stephen King and I try reading one play a day. Playwrights like Sam Shepard, Judith Thompson, Edward Albee, Henrik Ibsen and Anton Chekhov… pretty standard diet.
What is the most important lesson you have learned so far in your career?
Keep re-inventing yourself.
What other projects do you have coming up and where can people find out more about you online?
I'm currently directing a production of Paul Zindel's The Effect of Gamma Rays on Man-in-the-Moon Marigolds and working on writing  a new play with Frank Theatre. I will hopefully be directing a revival of Dogfight in Vancouver for March.
________________________________
Our thanks to Chris Lam for speaking with us! For more information about A Christmas Carol: On the Air, please visit PacificTheatre.org