Interviews
Published on March 7th, 2018 | by Biz Books
2018 VIWIFF Interview: Crystal Lowe and Ashley Alexander
BizBooks.net is pleased to showcase a few of the local filmmakers at the 2018 Vancouver International Women in Film Festival.
In this interview, we talked to director Crystal Lowe and producer Ashley Alexander about The Curtain.
________________________________
Can you start by telling us a little bit about you and your VIWIFF film?
Ashley Alexander: The Curtain is a short film about two hospitalized strangers that develop an unlikely friendship by revealing painful, intimate details about their lives through the safety and anonymity of the room's curtain divider. Crystal Lowe took the reigns as director/producer on this beautiful film and I produced as well. We have worked on 3 films together now and are a solid team. We met in Shea Hampton's acting class years ago and it wasn't until we took a chance on each other and made our first film, Becoming Sophie, that our friendship/working relationship really took off.
What does this film mean to you?
Crystal Lowe: When I first read the script, I really felt that this was an opportunity to speak to people and give them hope. I love that this film proves that kindness and acceptance can change a person's life.
Ashley Alexander: It also shows how it may be easier to open up to complete strangers in life rather than loved ones, which is both sad and hopeful to me. It speaks to the fact that we can be hiding who we truly are to those who are supposed to accept us the most. But also in this world of technology and closing ourselves off to strangers who surround us everyday, it shows that if we just put down our phones/take out our earbuds, we could meet someone who could change our lives forever.
________________________________
________________________________
What can audiences expect from the film?
Crystal Lowe: I think they can expect a beautiful love story, just not the typical kind.
Ashley Alexander: Agreed, I think they can expect to be moved, to feel uncomfortable at times but to be left with hope.
What was the biggest challenge for you in making this film and how did you overcome it?
Crystal Lowe: I really wanted to tell story with more than words. Coming from an acting background this proved to be difficult because that's what I know. So I challenged myself by rewriting only the action out and then figured out how to illustrate the story with colour, camera angles and light.
Ashley Alexander: Differing opinions about certain aspects of the film was the most challenging, but Crystal and I had each other to lean on and keep sane in moments when we were going to lose it. I think this is pretty par for the course on any film though, so it was a great learning experience.
________________________________
"Hold your head up and know your worth. I have been told a million times that I could only do one thing, or be one way. All of that was false."
________________________________
What's the most important lesson that you've learned in your career so far?
Crystal Lowe: Do the work. If you're sitting around expecting it to happen to you, you will be waiting for a long time. Put in the hours, take the classes, volunteer. Constantly push yourself to try new things. It's the only way to survive in this business.
Ashley Alexander: HECK YES to what Crystal said! It is so true! You can't sit around waiting because you'll be waiting forever and you'll go insane doing do. Also, surround yourself with positive, knowledgeable helpful people who will only bring you up rather than bring you down.Work hard, say yes to opportunities, but also know your worth so that you don't run yourself ragged while trying to please everyone/do everything all at once.
What would your advice be to women who are aspiring actors, writers, directors, or producers in the industry today?
Crystal Lowe: Hold your head up and know your worth. I have been told a million times that I could only do one thing, or be one way. All of that was false. Once I realized that I was more that just hardworking or 'pretty' or funny, that I in fact could embody all those things or none of them, I was free. I was able to look stupid, or ask a question that may get a side glance. Perfection is our own personal imperfections, so embrace them and do the work. 
Ashley Alexander: Need I say more?
Who are the women in the film and television industry who have influenced you the most?
Crystal Lowe: My beautiful current boss Martha Williamson. She is inspiring to say the least. Shonda Rhimes is incredible. Everything from her casting to her script writing has me in awe. And Viola Davis… QUEEN!!! Everything that comes out of that woman's mouth on screen has me shaking in my boots in the best way.
And all the women that I audition with and produce with and see hustling to make their own stuff. They all inspire me.
Ashley Alexander: Reese Witherspoon inspires the heck out of me and she is who I aspire to become. She started out as an actor and then turned herself into a producer/actor who is telling incredibly important and powerful stories, and kicking ass while doing so!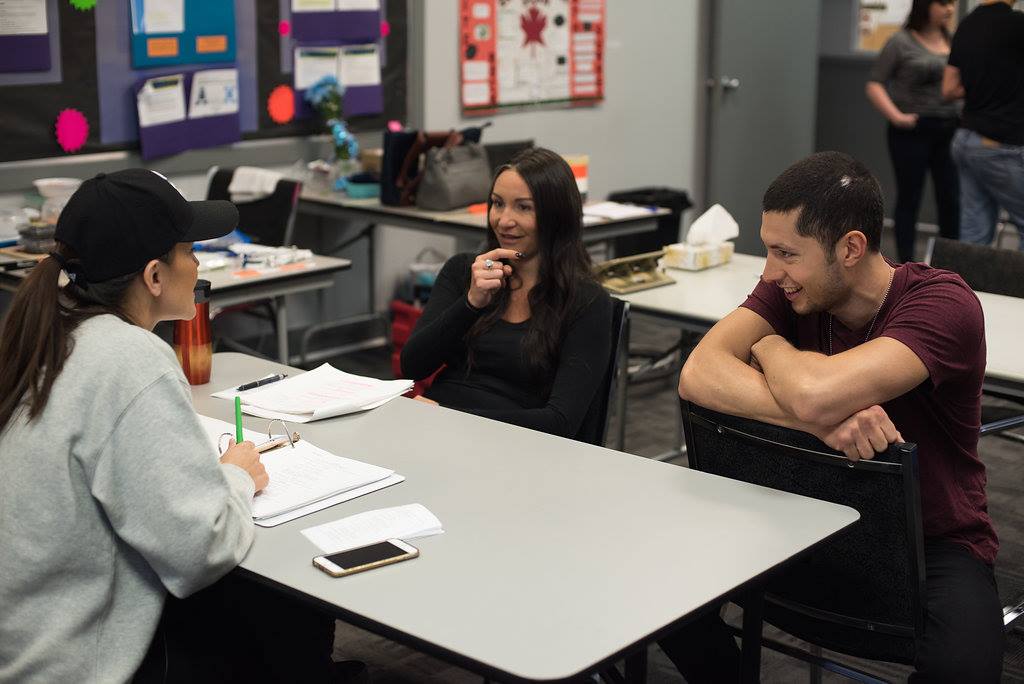 What film and television-related books and authors have been influential in your career?
Crystal Lowe: Okay… don't judge me for my mushiness but I love me some Nicholas Sparks. The Notebook was a film that showed true chemistry between two people. It was like watching fireworks on screen. Very inspiring. 
Ashley Alexander: Hmm, this is a good question that I really haven't thought about! Most recently it would be Big Little Lies, to go full circle back to Reese Witherspoon. This is something I'll have top pay more attention to, thanks for challenging me on this.
What other projects are you working on right now?
Crystal Lowe: I just wrapped the latest instalment of Signed Sealed Delivered. This is our 10th movie in the franchise and I absolutely adore playing Rita Haywith. 
Ashley Alexander: On the acting sides of things, I am doing the audition circuit like everybody else, but I am also writing a feature film with my writing partner Bex Whiting. It's a psychological thriller about mental illness for me to star in. On the producing side, I am going to camera on a proof of concept for a TV show at the end of March, and I have my hands in a few other projects as well!
Where can we find out more about you and your film online?
Crystal Lowe: I'm a Tweeter and an Instagrammer so please follow me at @RealCrystalLowe.
Ashley Alexander: I am an Instagrammer as well: @LivingFreeAshley and I also have a YouTube channel where I share my love of gluten free/vegan baking: Ashley Alexander
Check out The Curtain's Facebook page for updates!
________________________________
Thanks to Crystal Lowe and Ashley Alexander for speaking with us!
You can check out The Curtain at the 2018 Vancouver International Women in Film Festival as part of the Family and Friendship Shorts Programme which screens on March 11th at 4:15PM.
For more information the VIWIFF, please visit WomeninFilm.ca.