Interviews
Published on April 24th, 2018 | by Biz Books
The Biz Interview: Benjamin Ratner
Kindred Entertainment is pleased to present THIS, an original play by Vancouver-raised playwright and House of Cards showrunner Melissa James Gibson that opens April 26th.
An "un-romantic comedy", THIS is an unapologetic and fiercely intelligent glimpse into the lives of five friends approaching middle-age and grappling with where they've found themselves and what could, or should, come next. The production is directed by Bill Dow and stars Loretta Walsh, Benjamin Ratner, Zak Santiago, Brad Dryborough, and Karen Holness.
Benjamin Ratner chatted with us about his involvement in THIS!
________________________________
Can you start by telling us a little bit about your involvement with THIS?
I am acting in the production, playing the role of Alan Stimple.
What should audiences expect from the show?
It's a very witty, very smart play, with moments of deep resonance.  Expect to have your funny bone tickled, your heart strings tugged, and your brain poked with a sharp stick.  In a good way.
---
---
From your perspective, what is the most rewarding thing about stage acting?
Acting is a muscle — use it or lose it.  The fulfillment that comes from taking on the challenge, putting in the countless hours of work and doing it well with a group of like-minded artists is immense.  And those nights when the audience and performers "become one," those are truly magical experiences that can only occur in the "live" theatre.
What are the three most important ingredients for a successful play?
Depends what you define as "successful."  For me, as a participant, a successful play is one that entertains and engages the audience, is staged and performed at a high level of craft and integrity, and ideally doesn't lose money. And one more thing — it should be fun to do.  It's a lot of hard work, but it's gotta be fun —that's about the people involved.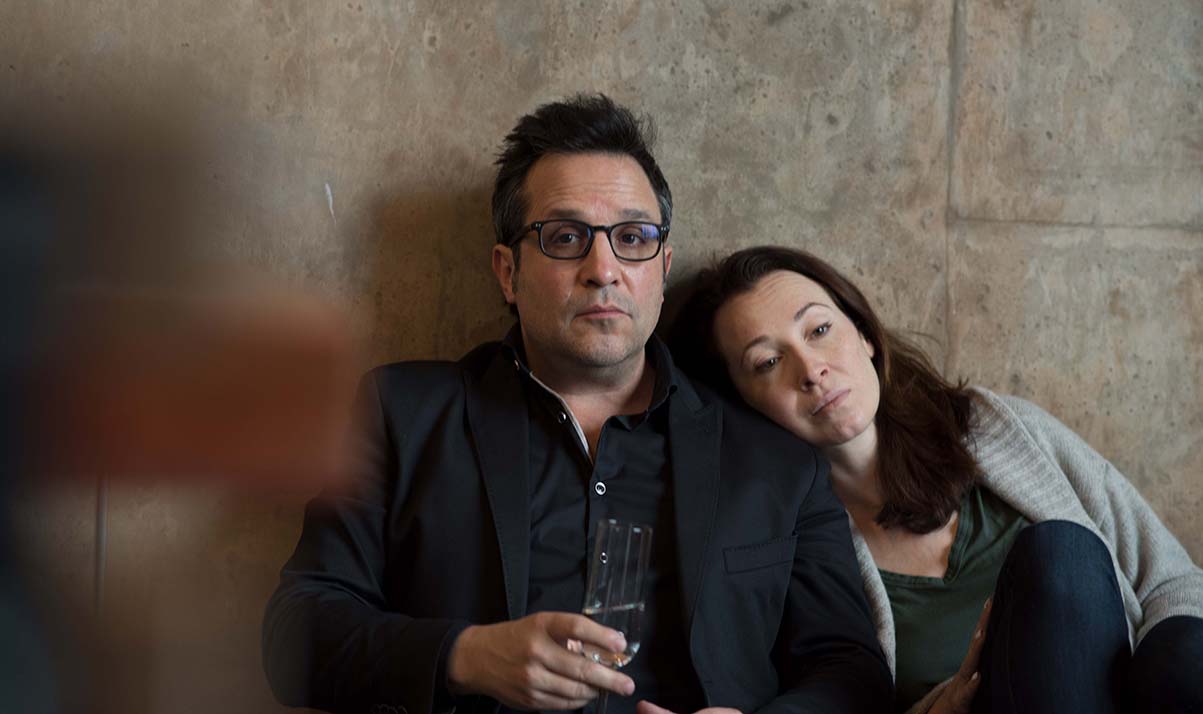 ________________________________
"Learn your lines. For the love of God, learn your damn lines, and learn them well."
________________________________
In your opinion, what is the current state of Canadian theatre and how has it evolved since you first got involved with acting?
I recently saw Betroffenheit by Jonathon Young and Crystal Pite and was quite blown away, as was much of the world. To see such an original, personal and daring piece of theatre come out of Vancouver and reach an international audience is very inspiring and encouraging. There are no limits to what can happen with Canadian Theatre, and there never have been.
What's the most important lesson that you've learned as an actor?
Learn your lines. For the love of God, learn your damn lines, and learn them well.
What acting-related books and authors have been influential in your career so far?
Too many to mention. Let's start with books written by two of my teachers  – The Intent to Live by Larry Moss and The Power of The Actor by Ivana Chubbuck. More recently, The Second Circle by Patsy Rodenberg has opened up and simplified things for me in a very game-changing way. I also read all the good biographies and autobiographies I can get my hands on, recently Kiss Me Like a Stranger by actor/writer Gene Wilder, and Beneath the Underdog by jazz musician Charles Mingus.
What other projects are you working on right now?
Lots of stuff.  Teaching at and running my acting studio, Haven Studio, along with my THIS co-star and producer Loretta Walsh and THIS co-producer/Haven Studio Administrator Penny Ray. As writer/director/producer developing a couple of TV series, a documentary and a feature film with some of Canada's top talents, including Amanda Tapping, Richard J. Lewis, and Danny Virtue. Playing a recurring role on Netfix show, Travelers, alongside such notable actors as Eric McCormack and my wife Jennifer Spence. Lots to do and very glad to be doing it with good people who make me laugh and I feel I can trust and learn from.
Where can we find out more about you?
Google me!
________________________________
Thanks to Benjamin Ratner for speaking with us!
You can see THIS from April 26th to May 5th at Studio 16, 1555 West 7th Ave, Vancouver.
For tickets, please visit KindredEntertainment.com
________________________________