Interviews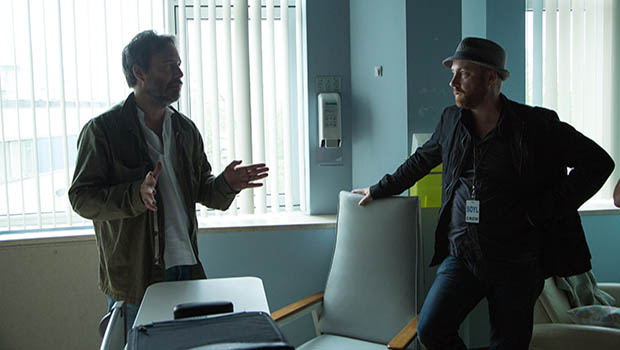 Published on November 10th, 2016 | by Biz Books
The Biz Interview: Patrice Vermette
Vancouver's Patrice Vermette happens to be one of the most acclaimed production designers working in the industry today. A Genie Award winner and Academy Award nominee, he has lent his talents to films like C.R.A.Z.Y., The Young Victoria, and 1981. We spoke with Patrice Vermette about his newest project, Arrival, which opens in theatres on November 11th.
________________________________
Can you start by telling us a little bit about the role of a production designer and what they do?
A production designer is in charge of creating the conceptual look of the film in conjunction with the director. Then to assure that the look is followed through during production. We take care of designing the sets, overseeing the locations department, props, special FX. Make sure that all creative department are making the same movie and assuring a good transitions of the visual world to VFX for the post production period.
What were some of the highlights of your experience on Arrival?
Getting to not only work on a sci fi movie but working on the adaptation of the short novel Story of Your Life with my friend Denis Villeneuve.
What was the biggest challenge for you with this project and how did you overcome it?
Everybody has an idea of how science fiction movies look like… Especially alien ships. It was quite extraordinary to be given the opportunity by our producers to go outside the norms. I have a lot of gratitude for this.
How did you get started in production design?
In 1991, After my studies at Concordia University, I started working and making my way up through the Canadian music Video industry. Around 1994, I started designing television commercials. That was a great training. Met great people and a lot of directors who had the same aspirations as me. This is where I met Jean-Marc Vallee… Then came C.R.A.Z.Y. in 2004.
What are some of your most memorable moments in your career to date?
C.R.A.Z.Y. is definitely one of them. The Young Victoria and the Oscar nomination that came with it. My first film with Denis Villeneuve: Enemy, Sicario and obviously my sci-fi dream job: Arrival.
What's the biggest misconception about being a production designer?
That we have enough sleep at night…
What's the most rewarding thing about your work?
When the work becomes invisible and that the audience is totally absorbed in the reality of the movie and forget that they are watching a movie…
What books and authors have been influential to you in your career so far?
The Stranger by Albert Camus. I dream of doing a modern adaptation of that book someday. It is so much of actuality even though it came out in 1942.
What other projects are you working on right now?
I'm presently working in Vancouver on a movie titled The Mountain Between Us. Hany Abu-Assad (Omar, Paradise Now) is directing. Kate Winslet and Idris Elba are starring.
________________________________
Thanks to Patrice Vermette for speaking with us!
Arrival is in theatres November 11th.